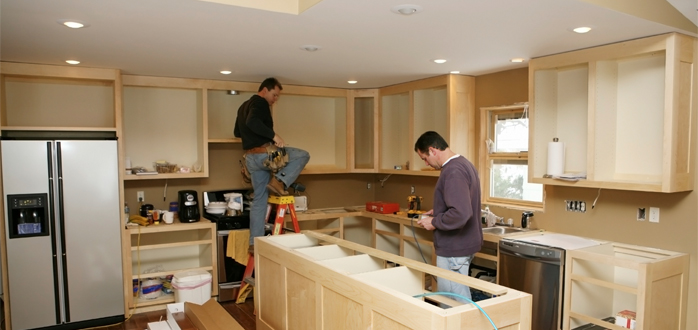 Superior workmanship at affordable prices!
Kitchen Lighting: Whether you need recessed cans, track lighting, hanging pendants or chandeliers, we can install all your lighting. Change the entire look of your kitchen with professional, properly installed lighting. We can install new lighting or retrofit lighting into your existing structure in Cumming or Buford, or any of our other service areas. Lighting can create moods as well as add beauty to the interior and exterior of your home or business. Selecting the right lighting can be a difficult task without professional help. From aesthetics, to voltage, to mounting techniques, the decisions are many and Dehart & Hill Electric, Inc. can help. Whether you live in Cumming, Buford, Sugar Hill or any of the surrounding areas, we can provide the professional electrical service you need. To create a well lit kitchen, don't forget the under cabinet lighting, it makes a world of difference to the comfort of the work space.
Going Green: Thinking of "going green" with energy efficient lighting? DeHart & Hill Electric of Cumming, GA can help. We can help you determine the most efficient, green, energy saving lighting suitable for your space, whether residential or commercial, that will include overhead lighting, ballasts, lamps and other sources of light.
Additional Lighting: Need new lighting? We can install recessed cans in new or existing homes or remodels, as well as ceiling fans, chandeliers, security lights, outdoor lights or whatever type of lighting you might need.
Outdoor Lighting: DeHart and Hill Electric are your best choice for all your outdoor lighting needs, whether decorative, utilitarian or security lighting. We can light up your swimming pool or hot tub, strategically light up your landscaping, trees, shrubs and walkways, and enhance the beauty and usefulness of your patio, barbecue area or deck. No lighting project is too big or too small. Call us today for a free estimate and you will see how affordable it is to make drastic improvements to your property with energy efficient lighting.
Lighting Repair: Have problems with lighting? Maybe a ballast is flickering or your security lights are not working? Call us for a free estimate, we can help with all your projects.
Office Lighting: What could be more important than properly lighting your commercial work space? An improperly lit environment can wreak havoc on your employees eyesight and performance, and can even turn off potential customers if you have a poorly lit conference room. Or maybe you need dimming systems for your conference room to be able to show slide shows or instructional videos and you need help with a softer lighting scheme. We can also help you light your employees work space that need a darker room for computer viewing. Call us today, we can help.
Service Areas: DeHart & Hill Electric is located in Cumming, Georgia. We service a large Metro Atlanta area which includes Cumming, Buford, Sandy Springs, Alpharetta, Marietta, Gainesville, Sugar Hill, Suwanee, Duluth plus much more.
Free Estimate: Call us today for a free estimate at 678-947-3650.