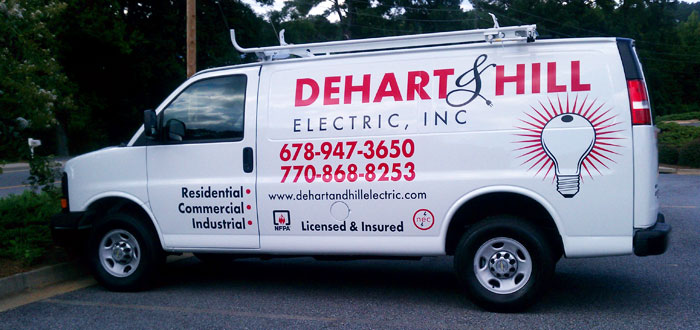 Professional Commercial Electrical Service
Our professional services for Commercial applications are varied. We are the trusted name in Metro Atlanta for service upgrade, new construction, emergency service and home needs. We are located in Cumming, Georgia and service Metro Atlanta including Cumming, Buford, Alpharetta, Sugar Hill, Suwanee, Norcross, Duluth, Sandy Springs, Marietta, Gainesville and all the areas around these cities. Lighting is an integral part of a business and good lighting can enhance or impede the performance of the employees engaged in the work environment.  Additionally, a properly and beautiful lit work environment can increase sales.
Security: Lighting, if used properly, can help make your business more secure. By adding outdoor security lights, time controlled lighting, motion sensors and dimmers. Lighting can also make your business more safe for employees, staff and visitors by lighting up work spaces, dark corners and hallways. We operate in Cumming and Buford, and all points between in Atlanta.
Boat Docks: We repair existing electrical issues with boat docks and inspect docks for the Core of Engineers and dock permit renewals. We add outlets for boat lifts, power for a complete new dock installation, and we add circuits for irrigation pumps to pump water from the lake to water the landscaping. We can trace the wiring underground to find a short or we can replace the ground fault protection if it stops working. Areas include Gainesville, Alpharetta, Cumming and Buford, plus more.
Panel Upgrades: It could be time to upgrade or replace your electrical panel. Is your electrical wiring old?  You could be operating with insufficient electrical support for today's electrical appliances or your newer computers and equipment. Your increased usage of electronics means your outdated electrical systems could be overloaded. Signs of this are flickering lights, tripping breakers,  blown fuses, overheating electrical service, panel boxes that make a crackling sound. Have you added large commercial equipment that requires a lot of electric usage to run? Do your need 240v? Do you need to add a subpanel or more electrical outlets? Our office is in Cumming, we serve Metro Atlanta including Buford, Alpharetta, Gainesville and more.
Generators: We install residential and commercial generators and install manual and automatic transfer switches.
Surge Suppressions: We install surge suppression devices on all types of outdoor equipment, motors and services. We can install a variety of equipment to best fit the electrical needs of the client in regards to amperage, ohms and reliability, and price.
Service Work: Our commercial work is centralized around Cumming, Alpharetta, Buford, Sugar Hill, Suwanee, Atlanta, Sandy Springs and Marietta but extends to all of Metro Atlanta. Our commercial projects include hospitals, schools, college campuses, restaurants, office buildings and manufacturing plants.
New Service: Our Commercial New Service includes subdivisions, mobile homes, temp trailers, job site temporary power, schools and colleges, garages, outbuildings, horse and other barns, car dealerships, restaurants, hospitals, printing companies, welding companies, poultry plants, welding facilities, veterinary offices, camp grounds and all commercial buildings.
Other Services Include:
Commercial Remodel
Security Lights
Service Upgrade
New Service
Apartment Service
Pole Lights
Panel Replacements
Going Green Energy Efficient
Lighting Repair
New Lighting
Security Lights
Moon Lights
Trouble Shooting
Home Inspectors List
Outdoor Lighting
Industrial Work- Motors, Design, Install